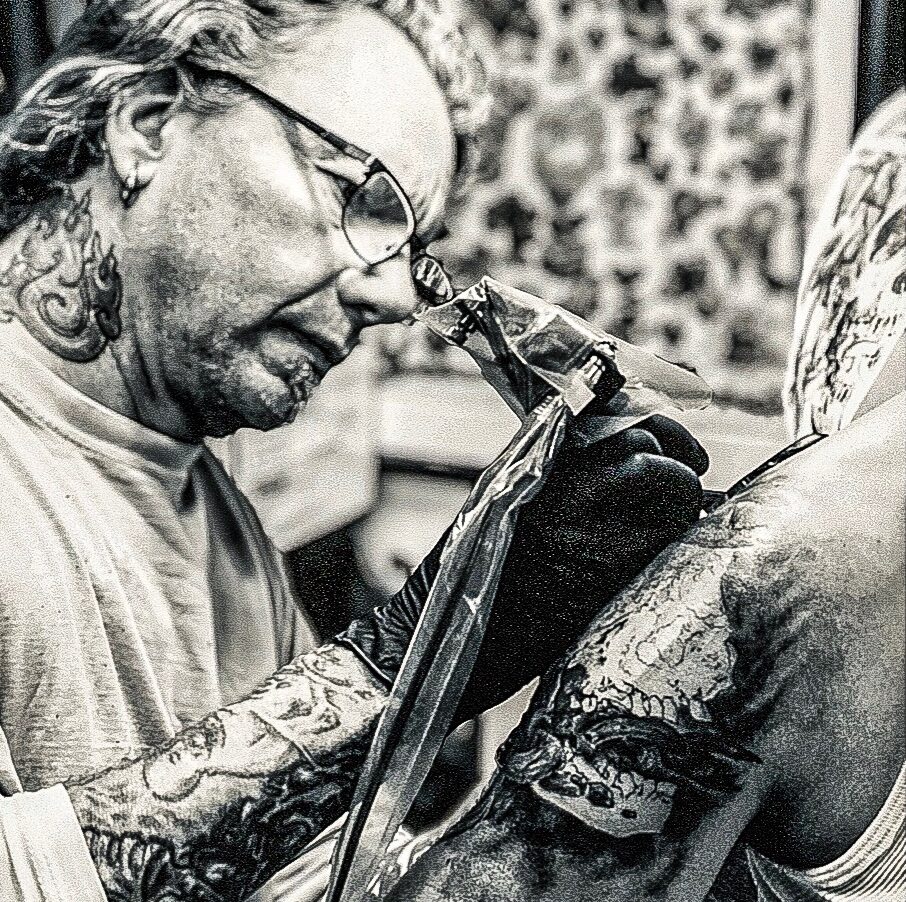 Born over 50 Terran years ago and tattooing over half his life, Robo started drawing in his own time at age 7. Armed with various drawing implements passed down from his female parental unit, he began the attempt to reproduce works by various wildlife painters, Audubon and the like. Drawing soon turned to watercolor painting and the subject matter evolved to pages from National Geographic, Heavy Metal and Epic magazine…as well as the odd Sunshine girl! By 13 he found new uses for the legacy bottle of drawing ink, having had a schoolmate reveal that with just a little pressure and a sharp pin.. well, you can guess the rest.
High school classes were attended on occasion however art and music were rarely missed.. after years of distraction, playing at being a musician, delving into the murky depths of sonic composition and a fair bit of Canadian travel, the love of art was rekindled in the form of getting it permanently installed by Chris Russell at Accents in Skin (freehand tattooed a thorny music note) and then when affordable, East Toronto's own Bruce Smuck. This meeting, in turn, lead to an apprenticeship and 8 year stay at Lower East Side Studios (and Abstract Arts Tattoo ) under the influence and tutelage of talented, unconventional folks like Stu Kay, "Handsome" Mike McGill, Cory the Fonz Cooper, Danny Day, Gord Driver, Kathy Body, Bruce and Ken Smuck (the Brothers Loud), Frederick "Po'oino" Yrondi, and the deep well that is Lyle Tuttle to name a few. An 18 month stay at Bruce Smuck's Highway 2 Tat2…3 years at Reactive Ink with the awesomely nutty Alex Gibb…and then 17 years at different locations in Whitby, Ontario.
Now the pride that is Element 6 Custom Tattooing, has left the harbour, sailing toward stranger seas where the future will be forged in the form of unforgettable marks, rites of passage, expressions of culture and history, ridiculously weird conversation and finally, retooling and restoring the past, present and future in the form of wicked cool, indelibility!